XML Sitemaps
XML sitemaps are code structures that are both human and computer readable. An XML document contains the structure for pages on a website combined with additional meta information. XML stands for extensible markup language, which uses tags to surround and denote data points within a hierarchical architecture.
One of the powerful advantages of XML is high flexibility; XML specifies the organization of data very well but does not define or restrict the types of information it can contain. Because there are virtually an unlimited number of ways to tag and fill an XML document, standards have been developed for various specific use cases so it can be created, shared, and easily interpreted by machines. These standards include popular examples such as XML RSS for content feeds and search engine XML for indexing of websites.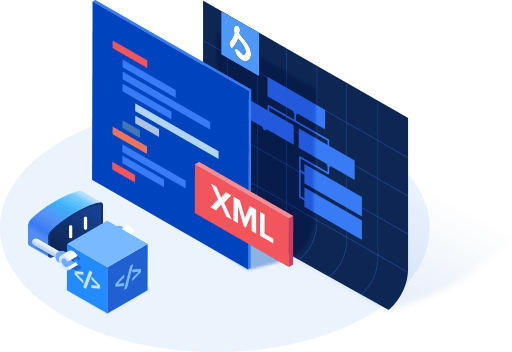 Search Engine XML Sitemaps
Search engine XML sitemaps are a specific standard used by search engines such as Google, Bing, and Yahoo. A search engine XML sitemap allows a web crawler to preview all the links on a website so it knows where to look when indexing a site. This is important so that it does not miss critical pages due to linking issues or crawling depth limits / timeouts. Using this technique allows you to see the progress of the search engine's indexing by showing the number of pages crawled vs. the number of total pages listed in the sitemap. Another benefit is to identify crawling errors or page errors by looking at the sitemap crawling status and log.
Why Plugins are Better for Search Indexing XML
Slickplan does not directly support exporting to search engine sitemaps. This was intentionally left out because most websites continue to evolve in page structure long after initial development takes place. We recommend installing a CMS plugin that auto-generates search engine XML sitemaps each time a new page is added, updated or removed. In this way, your search engine sitemap will always be up to date with the current website structure. Here are some additional resources we recommend for handling search engine indexing XML sitemaps.
Google Webmaster Tools
A powerful suite of tools that gives insight into search engine indexing of your site, page errors, search queries, landing pages, and much more.

Google XML Sitemaps WordPress Plugin
A top-rated and reliable WordPress plugin that when activated auto generates website XML sitemaps and places the file in the root of your website. This plugin offers a variety of customizations and supports updates and prioritization of sitemap pages.

Google XML Sitemap Validator
This handy tools checks your search engine XML sitemap for errors and confirms that it is compliant with Google requirements. We recommend you validate your Google sitemap to troubleshoot sitemap and crawling errors. This tool supports validating Google sitemaps and Google sitemap indexes.

Bing Webmaster Tools
A toolset that allows website owners to configure and monitor indexing, crawl statuses, error messages, traffic, and more, within the Bing.com search engine environment.
Previous
Get some helpful information about perfecting your website's structure including perspectives on planning, information architecture, and more.
Next
Check out our always free sitemap tool and get access to basic features. Upgrade to a free trial at any time to test out the entire suite of features.