Build sitemaps using the #1 rated sitemap creator
Elevate your UX with Slickplan. Quickly visualize, plan, build and brand projects using our sitemap creator's easy drag and drop interface.
14-day free trial
No credit card required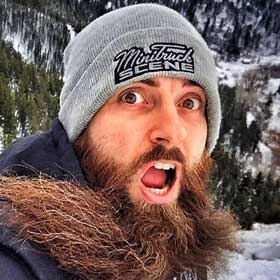 I love how simple and user-friendly Slickplan is. The Site Crawler Tool is genius! I had my first sitemap created in minutes, and sharing with my clients is effortless. Wait, there's also a WordPress plugin for importing my projects? Thanks for making life so easy!
Randy Johnson, Owner at

Eight Deuce
Sitemap Builder key features & tools
Whether it's meant to convert, inform or entertain, there are lots of moving parts that go into planning a killer website. From creating an instinctive user flow to information architecture to nailing the SEO, Slickplan has you covered.
Improve
website planning
and create new website structures from scratch using drag and drop or start with an existing website by importing its URL, sitemap index file or Google XML file. Slickplan's
visual sitemap generator
builds easy to navigate hierarchical sitemaps to help you present and test a variety of architecture scenarios for web pages.
Create sitemap structures

Manage large sitemaps

Add page attributes

Customize sitemaps

Collaborate and share

Incorporate SEO metrics

Site crawler & XML import

Export sitemaps
Build a sitemap
Sitemap creator additional features
What else can this puppy do? Glad you asked. Scroll through and read up on how else our sitemap builder can make your projects easier.
Drag. drop. done.
Reorder a page—or your entire sitemap—in seconds. Just drag and drop pages or entire page groups.
User permissions
Keep projects secure by choosing which users on your account can view, comment or edit. Delegate responsibility by assigning project managers to specific projects.
Batch editing
Handle large sitemaps that require numerous edits easily with our batch editor. Change labels, colors and interactive features for several pages at once.
Page types
Understandability is a key to sitemap success. Adding page types makes a project easier to comprehend, more organized and helps deliver a refined final product.
Cell and text sizing
Comfort is key, make your sitemap project easier to read by customizing the size of cells and text to fit your preferences.
Keyboard shortcuts
In a hurry? Use the keyboard shortcuts you already know and love from other applications to easily undo, redo, zoom and add new pages.
Autosave
Don't lose any of your work! Your sitemaps save the instant changes are made. Nothing worse than a browser crash wiping hours of progress.
Version control
Make multiple iterations of your sitemap at the same time, start the A/B testing from the jump and work with your team to find the best solutions.
Search function
Whether your sitemap is 100 pages or 10, you don't want to spend a ton of time trying to find what you're looking for. Save time, use our search function.
Approvals and locking
Manage approvals and even assign specific contributors to approve your work. Lock sitemaps so changes can't be made after you're finished.
Properties panel
Build a smarter sitemap with our properties panel. Add important info to guide development like page types, notes, links, attachments and Google Analytics data.
Choose orientation
Show off your fancy new sitemap in either horizontal, vertical or family tree orientations. The choice is yours.
Team editing
Let clients make suggestions, changes or create new versions of your sitemaps. If multiple people are working simultaneously, they'll see changes in real time.
Sitemap templates
Why start from scratch? Get the ball rolling with one of our many built-in templates. They come in all shapes and sizes so chances are we've got you covered.
Integrations
Maintain your workflow and easily share sitemaps by connecting Slickplan to popular web apps including Basecamp, Teamwork and Slack.
Preferences perfected
Work however works for you by tailoring comment alerts, text case, automatic page numbering and more to your liking.
Branded sitemaps
Your clients work hard to build their brands, show that game recognizes game and present sitemaps branded with their own logos. Those little things go a long way.
External linking
Need to link to an external site or document? Add a custom URL to any cell on your sitemap.
In-place editing
Renaming was never easier: just double-click the text and start typing. Changes appear directly on the sitemap cell.
Undo and redo
Made a mistake? All is forgiven with the one-click undo button. Oh that wasn't a mistake after all? You can "redo" as well, no big whoop.
Custom sub-domain
Every account comes with its own sub-domain. Send clients to your very own Slickplan sitemap. A very pro look.
Page numbering
Always find what you're looking for with page numbering that automatically changes as you edit. As a sitemap grows, numbers are easier to reference than page names.
Clone it
Want to repeat a page or group of them across a few parts of your sitemap? Clone 'em in a flash with our simple tool.
Page count
Sitemaps can grow rapidly, make sure to stay within the scope of a project by keeping tabs on how many pages you have at a glance with our handy page counter.
Zoom in/out
Big project? Don't squint or move your face closer to the screen to see the details, just zoom in on the section you're working on. Zoom out for the whole picture.