Free Sitemap Tool
Create a website sitemap with Slickplan's free sitemap generator. Slickplan is the perfect app to help plan your website project before you start to code. Quickly and easily plan out your website's navigation and page structure layout in our free sitemap tool designed just for this task. Easily test out different website structure scenarios first to determine the most optimal and user friendly layout.
Get access to basic functionality that allows you to create and edit a sitemap project. Share your sitemap via web link when you are finished.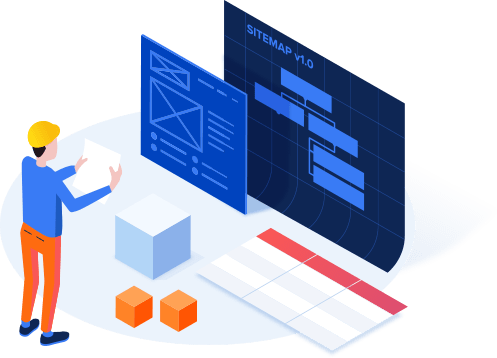 Take Advantage of Core Features Including:

Drag & Drop Interface
Simply drag and drop pages or entire page groups. Reorder a page or sitemap in seconds.

In-Place Editing
Simply double-click text and start typing. Changes appear directly on the sitemap cell.
Auto Resize
Sitemap cells and trees automatically resize to your screen so your sitemap is readable at any size.

Auto Save
Our sitemap tool continually saves your hard work. Never lose work due to a crashed browser.

Share a Web Link
Easily email and share your sitemap project with others using a web link.
Sitemap Versioning
Create multiple versions or iterations of your sitemap. Keep your versions organized by assigning a version number.
There will always be a free account version of Slickplan's sitemap tool, but keep in mind that you'll be limited to one sitemap, a single user, and limited support.
Why not try the full suite for 30 days, free of charge, with no credit card or obligation. You can revert to the free account later, if you don't love every feature.
Previous
Get some helpful information on designing sitemaps with Slickplan including features, strategies, tips, tools and more.
Next
What's the difference between visual sitemaps, HTML sitemaps, and Google sitemaps? See why they are important in modern web design practices.