Perfect website sitemap structure
Planning your website structure in advance of coding is an essential step for optimizing website architecture, information architecture, SEO and user experience. A website sitemap represents the different link pathways that a user or website indexer may follow. Using visual website sitemaps as a planning strategy grants the ability to brainstorm ideas, test navigation, iterate on scenarios, and redesign information layouts before graphic design or coding takes place.
Understanding the user's needs is critical to perfecting your website structure. It is important to know what content is valuable, the types of visitors to attract, and how to make that content accessible and easy to find. Organizing content into hierarchical parent / child relationships with generalized pages linking to specific detailed pages allows both humans and web crawlers to easily understand how to use and navigate a given website.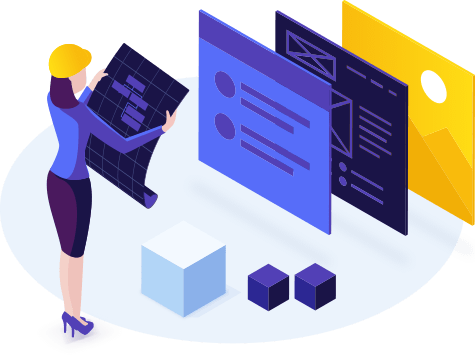 Website Architecture
Just like an architect creates a structural plan for a house, website architecture uses principles of organization, functionality, and aesthetics to deliver a product that meets the user's needs. The website architecture component is a heavily analytical and logical set of procedures that aims to align and direct all other planning for a given website project. When developing website architecture, it is important to plan outward from key strategic requirements set by business and marketing plans, budgets, available technology (hardware and software infrastructure), branding guides, user data, and intended content types.
Website Map Planning
Slickplan does not directly support exporting to search engine sitemaps. This was intentionally left out because most websites continue to evolve in page structure long after initial development takes place. We recommend installing a CMS plugin that auto-generates search engine XML sitemaps each time a new page is added, updated or removed. In this way, your search engine sitemap will always be up to date with the current website structure. Here are some additional resources we recommend for handling search engine indexing XML sitemaps.

1. Define Your Goals
A good place to start involves a list of the primary and secondary goals for your website; this may include increased readership, eCommerce conversions, newsletter signups, donations, purchases, content engagements, etc. This will help you determine which content to place up front, in the most accessible locations.

2. Know The Audience
Compile some information on your primary and optional secondary target audience(s). Find out what other sites they spend time on, where they shop, and simple demographic information like average age, browsing locations, country, language, etc. Learning about the behavioral characteristics of your audience can go a long way toward helping you plan your website and conducting marketing activities that support your website plan.

3. Analyze The Competitive Landscape
It is important to check out the competition if it exists within your market. While you should not copy your competitors, you can look at their sites for what appears to be popular (placed up front with easy access), what types of content get shared the most, and how they have organized their information. Additionally, look to see what you don't like about your competitors' sites. Look for elements that appear unsuccessful so you can avoid making similar mistakes.
4. List Your Content
List all of the content types that you might expect to put on your website; group them by similar characteristics. Assign taxonomies or classifications which will further allow you to refine organizational groups for your content.
Information Architecture
Information architecture (IA) is the defining part of the overall website architecture that focuses on how the content is organized and delivered to the user. Your list of content types can be used to create the website sitemap. The sitemap is IA's primary document, which communicates both the physical layout as well as the navigation to designers, developers, team leads and / or clients.
Modern content management system (CMS) platforms make it easy to build websites, but they don't always provide you with the best way to organize content. Each situation may be unique and require its own content structure, which is why it is important to engage in pre-planning; the website map structure should have the user in mind first. Depending on the type and quantity of your content, you may choose from a variety of standard information architecture structures or even create your own custom variation.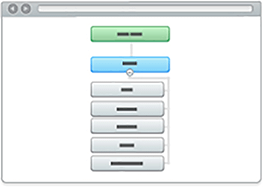 Single Page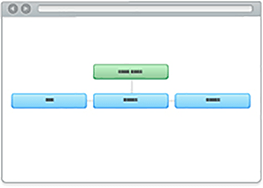 Flat Structure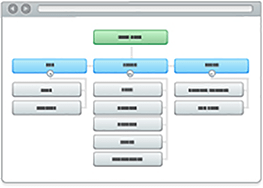 Simple Indexed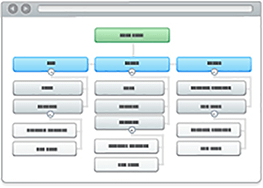 Indexed Hierarchy
Website Silo Architecture
Website Silo Architecture is another way to describe Index Hierarchy Information Architecture. This structure has many powerful advantages over other structures in that it is both extremely search engine friendly as well as logical and intuitive to users.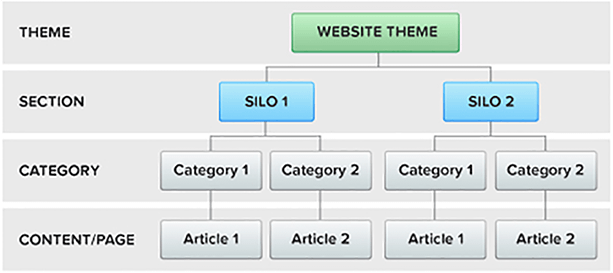 Previous
Visually designing sitemaps is important in properly planning your website. Learn how a visual sitemap generator works.
Next
Learn about search engine friendly XML formats. Resources for importing Google XML sitemap files from online XML sitemap generators into Slickplan.