Silo Architecture for SEO and User Experience
Silo Architecture is a system of information architecture that organizes content into groups that pertain to a particular topic within a website sitemap. Pages are set up in a hierarchy, from general to specific (top to bottom). Navigation is logical and orderly so that site visitors don't require a lot of time to learn how to navigate your website. Web crawlers understand how to index this form of website architecture so you have confidence that your pages are available directly from the search engine for a related query.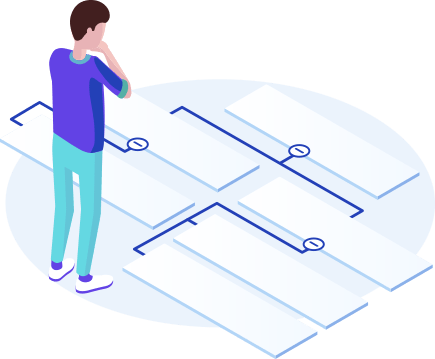 Optimizing Page Hierarchy
Typically the parent / hub page will have its own navigation to the underlying child / detail pages within a silo. Users may easily follow the silo navigation from one page to the next with the assumption that the underlying content will be highly relevant and unique from page to page. A good silo will contain between 4-10 pages of content; any less, and you run the risk of losing relevance and user attention, and you may need to either add more content or divide topics from your current silo pages into new pages. More than 10 pages becomes cumbersome for the user, and chances are a user will lose interest toward the latter pages. A good option is to either reduce/combine topics or break out content into a new silo.
Let's look at an example:
Super-duper-office-chairs.com sells a variety of types of chairs for the office. They have a lot of different styles, each with their own unique features, pros and cons. To better educate their visitors about their chairs, the company created additional content to inform and answer common questions. They used an indexed hierarchy, or website siloed architecture approach, for laying out their new pages.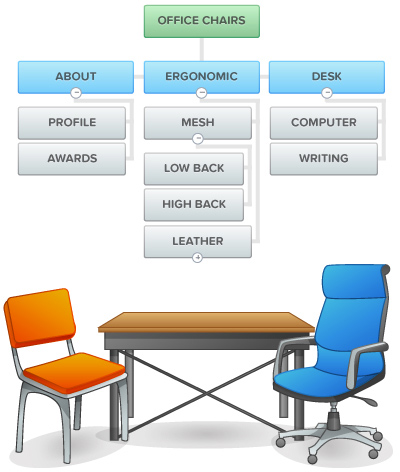 Super-duper started by creating a parent / hub page that gives a nice introduction about different types of chairs, a summary of underlying topics with navigation so users can easily jump to subtopics of interest , and some other general but relevant information.

Next, Super-duper built a set of pages beneath the parent / hub page that addressed unique and individual topics relevant to office chairs. Topics included a mix of product, philosophy, research, and opinions to give the reader a good overall perspective.

Six months later, Super-duper decided to add desks to their product line. When it came time to add new content to educate their visitors, their website architecture readily supported scalability for the additional page silo. This saved the company time and money in avoiding a full site wide navigation redesign.
Create Better User Experiences
Less Learning Curve = More Positive Affinity
When information architecture is used properly, a user is not required to do as much thinking and clicking to learn how content is organized on your site. This style of grouping is common to many other applications outside websites, so it may immediately appear familiar. The hope is that users quickly find what they are looking for with minimal frustration, leaving them with a positive affinity toward your site.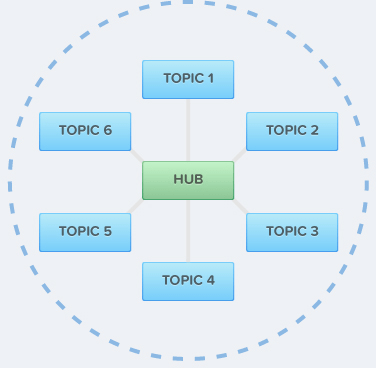 Increase Time on a Site, Decrease Bounce Rates
Users understand that focused content narrows, the deeper they click. A user may land at any point within a given silo page from various sources including site navigation, a search engine query, an advertisement, a link on a forum, etc. It is important for your users to understand where they are geographically within the silo, how to move to additional topics in order to learn more, or how to easily back out without leaving the site. This is achieved with readily-accessible navigation menus or breadcrumbs. Use these features to highlight the user's current position in the navigation as well as how to navigate to the hub page or other silos.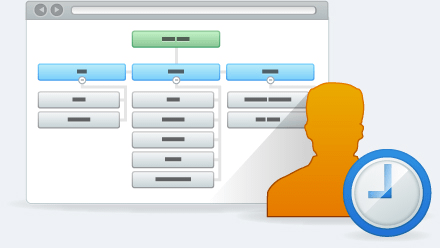 Optimal for SEO
More Landing Page Visitors
By creating unique pages for important and relevant topics, you gain additional chances to rank for a related query in the search engine. In turn, these pages can each become powerful landing pages or entry points into your site.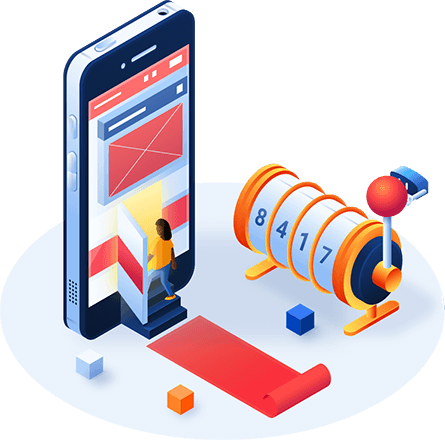 Increased Relevance of General Topics
By grouping topics into a hierarchy, the search engine understands which content goes with which other content. The ability for a hub page to rank for a given general query may go up due to the association with underlying page topics. With increased relevance, it is possible that your search ranking positions may increase for related search queries.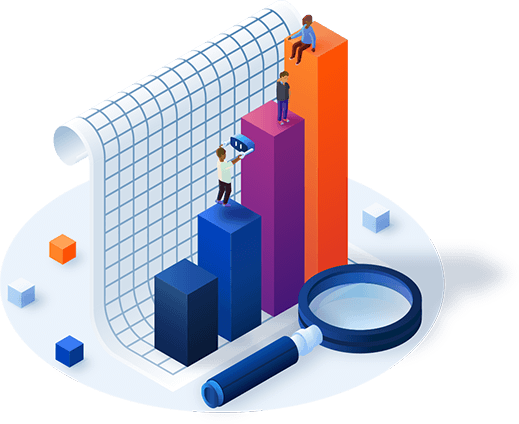 URL Structure Optimization for Query Synonyms
By simplifying keyworded URLs so that the parent page is the URL folder root and the child pages follow, the root groups important keywords together in the same URL. Add an additional level if a page relates specifically to a given child page. (Use this tactic sparingly as to avoid confusion and limit the number of pages in a silo.)

Avoid duplicating keywords in the same URLs. Find alternative ways to say the same thing so that you cover both possible user keyword queries. The goal is that your page will be recognized as relevant for each search variation.
Previous
Get some helpful information about perfecting your website's structure including perspectives on planning, information architecture, and more.
Next
Learn about search engine friendly XML formats. Resources for importing Google XML sitemap files from online XML sitemap generators into Slickplan.