Have you wanted a website but were overwhelmed by the costs? It's understandable why the idea might be daunting. Web designers are not cheap, and a quality website can easily cost thousands of dollars. Thankfully, the website platforms WordPress and Wix provide accessible and affordable options for businesses of all sizes. Need help choosing which website builder is the better option for you? Here's how they compare: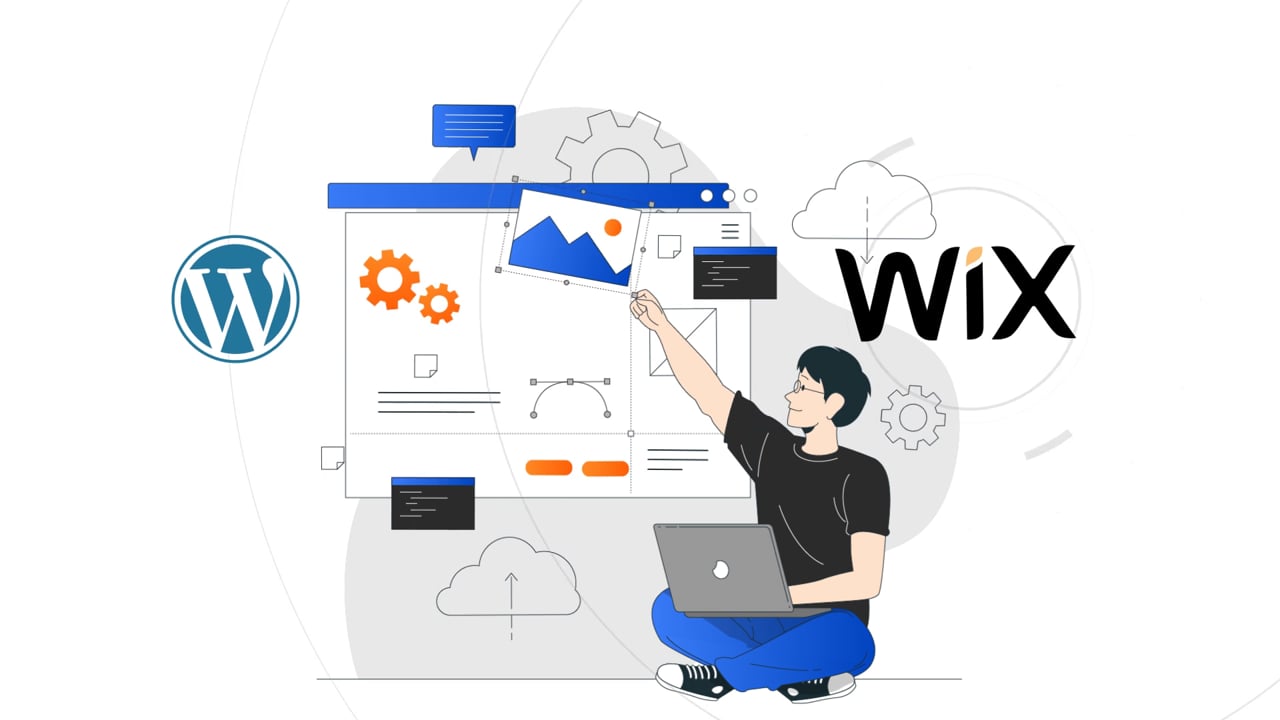 🎬 Learn what Slickplan can do!
We filmed a short video to show you exactly how to use Slickplan
Creating a Simple Website
When you need something a bit more personal than a Facebook page, it may be time to consider a website. A simple website is often three pages or less and may also include a blog. Both Wix and WordPress provide website building platforms that are perfect for creating simple websites.
Wix
Like creating a blog, creating a website on Wix is amazingly simple. To get started, choose your template, or you can use Wix's ADI (Artificial Design Intelligence) to have the platform suggest designs based on your needs.
Wix prioritizes a short setup time and ease of use, making it accessible for anyone looking to quickly build a website. For more advanced features, there's also Wix Corvid, that developers can use to create web applications such as dynamic pages and database collections.
WordPress.com and WordPress.org
Although it may be easier to launch a Wix site, you don't need to be a developer to create a WordPress site. Like Wix, WordPress.com is a website platform that includes everything necessary for quickly launching a site. Start with a theme, which are like templates but with additional customization options, then add content and customize to your needs.
If WordPress.com doesn't let you customize enough, advanced users may choose a WordPress.org site instead. This open-source version uses the same functionality but features fewer 'ready-to-launch' features, meaning the setup time could be significantly longer depending on your skill level. WordPress.org also does not include hosting, unlike Wix and WordPress.com.
If you need to quickly launch a simple website that is guaranteed to look good, Wix is a good solution. If you prefer to design your website but don't have a lot of time, WordPress.com is a good solution. If you want a completely customized website without having to learn code, WordPress.org is the best solution.
Wix vs WordPress for Blogging
A blog is a website that is optimized for regularly updated content. While creating a blog from scratch can be challenging, creating one using a website platform such as Wix or WordPress is not. Which of these provides the best blogging platform? The answer depends on your needs.
Wix
Wix makes designing an aesthetically pleasing blog easy. Simply use the 'Wix Editor' to select your template, then customize further with their Blog Manager. With their additional blogging module and multiple templates to choose from, setting up a blog on Wix is as straightforward as it can get.
WordPress
WordPress was designed as a content management system, making it an excellent choice for anyone looking to start a blog. The main difference is what else it can do. In addition to templates, WordPress also includes a text editor that expands blogging features using custom HTML and CSS. If you are looking for an out-of-the-box well-designed blogging solution, Wix is the way to go. If you have basic coding skills and don't mind slightly more setup time, WordPress offers more.
Comparing the Costs of WordPress and Wix
Since the functionalities of WordPress and Wix are so similar, it can sometimes be hard to choose between the two. Here's how the two website building platforms compare on costs:
Wix
Wix offers a free plan – if you are willing to allow advertisements on your site. With a premium plan that ranges from $13-$22 a month, the ads are removed. The larger plans feature additional storage space, form builders, and e-commerce support. Every plan includes hosting, templates, a domain, and technical support. You can choose the free domain name included with the plan or if you already own your domain, the cost to connect it to Wix's free site is just $4/month.
WordPress
WordPress is also free. WordPress.org is truly free, but you will need to find your own hosting provider and purchase your own domain name. This can range from $50 to $150 per year. On the other hand, WordPress.com's free version features hosting in exchange for advertisements, while the paid plans include a domain (or you can transfer yours in) and range from $4-$45 a month. The premium plans include advanced features such as eCommerce functionality, full customization, personalized support, and additional space.
Considering Costs Over the Long Term
You don't need any money to get started with a WordPress or Wix site. However, it's important to consider your company's future goals and needs before you commit to a platform.
Wix is likely the easiest solution, and the Wix monthly/yearly cost will be affordable for most businesses, but there is no option to upgrade and customization is limited. What you see is literally what you get. If you later discover you need more, you will have to start over. WordPress, on the other hand, provides more flexibility, control, and opportunity for growth in the long run. Plus, if you later decide to use WordPress.org, you can easily migrate your site onto that platform, further expanding your options.
The Best Platform for Custom Websites
Both website building platforms make it easy to create visually stunning websites for businesses and individuals of all types, but there is some variation in how they do it. For example, they both use templates but how you customize those templates and the amount of customization available to you is where the similarity ends.
Before you begin customizing any template, it is important to first plan the site. This is done through a process called site mapping. Planning your site before designing can help you focus your intent so that your themes stay in line with your goals. This is especially true if you plan to monetize your site, optimize it for search or use it to provide a service.
Tools like Slickplan's Visual Sitemap Generator can help you plan your website's structure.
Themes help ensure proper site architecture (the organization of a site), which is fundamental to the user's experience, but the overall design is also essential, and can be planned during the site mapping process. A well-planned small business website makes it easy for website visitors to scroll through and find the information they need and, hopefully, the solutions to the problems they hope to solve.
Wix
When it comes time to build your site, Wix is one of the easiest options. The Wix Editor uses a drag-and-drop website builder tool where you merely click on a page element, hold it, and move it where you want it on the webpage. Building your site is hardly a challenge; deciding how you'd like it to look, might be.
Wix offers more than 500 free themes to choose from, so plan on spending some time to select the right one. The free versions feature Wix branding at the top, but that can be removed with one of their premium subscriptions. You can also purchase custom Wix themes from a web designer, but you'll need to find a Wix designer on your own.
Once you've selected your theme, you can customize the font and the color. Click Save, and your new theme is ready for use on the other pages of your site. If you'd like to do more than customize the theme, you can also change the design of your site via Wix ADI. This option lets you choose from hundreds of images, colors, and fonts. You can also add animations and even adjust the height of particular sections. If selecting the best design seems overwhelming, it's not. Wix's ADI stands for "artificial design intelligence," meaning all the work is done for you. ADI nearly guarantees that, even with all the options, it's incredibly hard to make an unattractive site.
WordPress
WordPress.com offers themes as well, although the number of free options is nowhere near what is being provided by Wix. Some premium themes offer more functionality but are a little harder to set up. Premium themes are included with a premium subscription (premium, business, or eCommerce) or can be purchased individually.
WordPress.org, on the other hand, has more themes than Wix, in both free and paid options. Because WordPress.org is an open-source platform, anyone can create themes and upload them to the official theme directory. Themes are rated by community members but are not necessarily supported by WordPress.org. You can also create custom themes or hire a designer to create one for you.
Customizing a theme on WordPress is as easy as customizing a Wix theme. To do so, select appearance and then themes. Your chosen theme will be highlighted, and you'll see an option to customize. Like Wix, you can adjust the colors (font can be modified on individual pages), but you can also change the title and tagline of your website, add a logo for your site or even adjust the layout via site menus. WordPress customization also includes the ability to add CSS, making it possible to create exactly what you want without creating a custom template if you know how to code.
Plugins and Apps
While customizing the theme does a great job at putting a personal touch on your website, plugins and apps provide advanced features that help create uniquely useful websites. These 'add-ons' are individual software programs that add functionality to your site. WordPress plugins are downloaded from WordPress.org while you can find Wix apps in the dedicated Wix app store, the Wix App Market.
Popular WordPress plugins:
Popular Wix apps:
Unlike WordPress, there isn't a popular SEO plugin for Wix, but that doesn't mean Wix doesn't focus on SEO. Keep reading to learn about Wix vs WordPress SEO. In most cases, plugins and apps are created by third parties, so you'll need to do your research to select a reliable option. Although Wix has fewer options overall, many of their apps are developed by Wix. This means they are guaranteed to work with your site.
Creating an Ecommerce Site on Wix and WordPress
When you are building a website that can process online orders, you need more than an attractive design, you also need specific functionalities. Here's how Wix and WordPress compare when it comes to setting up an eCommerce website.
Wix
To create an e-commerce site using Wix, you'll need to install a store app. Currently, the two most popular options are Online Store, by Ecwid, a free, but limited option, and Wix Stores, which is available with a business subscription.
A Wix business subscription enables online payments via your website and includes Google Analytics, online ad credits, and generous storage space. Business subscriptions currently start at $23/month; however, the monthly Wix eCommerce price for a small business can reach $49.
WordPress
You'll also need to do some customization if you'd like to create an online store on WordPress. The most popular approach is using a custom theme. WordPress.com includes more than 30 compatible store themes. WordPress.org users and WordPress.com business and eCommerce plan subscribers can choose from additional custom themes in the theme directory or upload their own.
You can also use a plugin instead of a theme to create your store site, but you will need the business or eCommerce plan if using WordPress.com. Ecommerce functionality is no additional cost on WordPress.org, but you may pay more for hosting. Popular eCommerce premium plugins include WooCommerce, WP eCommerce, and Easy Digital Downloads.
Both the WordPress.com business and eCommerce subscription includes an automatic backup of your site, but you'll need the eCommerce subscription to accept online payments. The business subscription is currently $25/month, and the eCommerce subscription is $45/month.
Which option is better? While you can do more with a WordPress site, for most small businesses, it is cheaper and easier to create an attractive online store using Wix. However, if your business is based solely on eCommerce, it is typically a wise decision to invest in a WordPress.org site or other ecommerce platforms like Shopify so that your website can grow with your business.
Once you've decided on the design for your store, it's time to plan for how your customers complete their purchase. This is represented by user flows. Creating user flows before you build your website can help you understand user behavior, which can lead to more site visits, more purchases, and, ultimately, higher revenues.
Optimizing WordPress and Wix for Online Search
Search engine optimization (SEO) helps users find your website via sites like Google, Bing, and Yahoo. A specific form of SEO, on-page SEO, helps improve search results via website design. It is an art and science that combines user experience and content to influence the likelihood of people finding your website. SEO can be complicated if you do not have the necessary technical knowledge. Therefore, the best website platform will be not only easy to use but also easy to optimize for search via on-page SEO.
Many people mistakenly believe that on-page SEO merely involves keywords, and that including them in your content is good enough. Instead, website owners must also think about user-facing features such as the overall website content and backend considerations such as metadata. There are also things like bounce rate, site engagement, and responsive design, as well as design fundamentals such as page speed and user experience.
Why is the user experience part of SEO? The two are highly linked. Search results are supposed to be helpful. Users want answers to their questions and solutions to their problems, and they want them fast. When a website provides this, it is likely creating a positive experience for the user. That's possibly one reason why Google considers page load speed when ranking sites.
You can also create a positive user experience during the design process. Planning for the experience of the user means focusing on the goals, requirements, and needs of the end-user. Much of this is done during the planning process with the creation of user flows. Once you've created those user flows, the best website building platforms simplify the process of integrating them through usability focused site design. Here's how WordPress and Wix compare for page speed and user experience:
Wix vs WordPress for Page Speed
WordPress
WordPress sites typically do not have problems with page load speed, but If your WordPress website loads slowly, you can use Google's Page Speed Insights to diagnose the problem. It will show how fast your web pages load, as well as how well the site performs overall on both mobile and desktop devices. Often, slow load times are related to code bloat within the WP theme. For site owners with no technical knowledge, you can install various WordPress plugins that make the corrections for you in the background.
Wix
Wix has had a long history of using a lot of client-side Javascript, which leads to code bloat. This tends to make it impossible for search engines to crawl site links and index content. As recently as 2015, many Wix site owners found that their webpages were literally falling out of search engine indexes, including Google's.
Today, the drag-and-drop web design platform ensures faster page loads through Wix Turbo. Compared to before, a Wix speed test should reveal faster loading of sharper-looking layouts based on advanced CSS functionality. This is thanks to 4x as many worldwide data centers on the network, as well as smart caching combined with fast JavaScript for quicker execution.
Although Wix is taking action to improve page speed for its customers, WordPress gives its users more control over the process. With WP plugins, the process is automated, making it easier to improve page load times. Wix doesn't allow such backend access and maintains control of such features.
Wix vs WordPress for User Experience
WordPress
WordPress is a CMS (content management system) meaning its purpose is managing content, and it is designed to do so efficiently. Writing and producing content on WordPress is incredibly easy, making it simple for those with little technical knowledge to create useful, information-rich websites through regular content delivery. WordPress also makes it easy to improve usability by adding plugins such as Jetpack or utilizing cache and image optimization tools to help the site operate smoothly.
Additionally, most WordPress themes are responsive (mobile-friendly). For content optimization, plugins such as Yoast SEO can help with keywords. Some WordPress SEO plugins help with performance and speed, as well as added features to help engage site visitors.
Wix UX
Wix revolutionized the process of creating beautiful, user-friendly websites. However, when it comes to content optimization, Wix is not as strong. Although the website building platform includes applications that function as part of a content management system, Wix works a bit differently than a CMS and is not ideal for optimizing a website that will deliver large amounts of regular content (such as a business blog).
When it comes to user-experience, Wix is best at developing an immersive small business website or personal portfolio site. Wix site owners have everything needed to create excellent user experiences for their website visitors. However, WordPress gives you the ability to fully-customize UX using both free and premium plugins. With Wix, usability is pre-planned with little room for customization, while WordPress site owners may need to do a bit more work to achieve similar results. In the end, the difference comes down to the amount of control desired.
Making Your Site SEO-Friendly
Both Wix and WordPress provide basic search engine optimization via user-friendly templates and fast loading sites. Though, as mentioned above, this is only a small portion of SEO. These tools will help improve the SEO of your website:
WordPress SEO Plugins
Yoast SEO makes it simple to add SEO-friendly titles, URLs, and descriptions to your webpages and
blog posts. Use it to add social media images and open graph metadata to content, and automatically generate an XML sitemap so search engines can quickly crawl your site.
Google Search Console
For a free tool that helps you track your site's presence in search results, turn to Google Search Console. You'll get notifications anytime Google can't access, crawl, or index your site's webpages and tips on fixing the errors.
What are rich snippets? They are search engine results that stand out from others by showing videos or images next to product descriptions, products featuring prices below them, reviews followed by star ratings, etc.
Wix SEO Tools
Within 30 seconds of launching your site and making it live online, Wix automatically sends your site to Google to ping. You simply choose the SEO keywords you want to rank for, and Wix promises to help it rank for those phrases.
XML Sitemap
When a site is created using Wix, an XML sitemap is automatically created. This is what Google and other search engines use as a guide for crawling each page of the site. The sitemap is automatically updated when changes are made to the website's structure.
Structured Data
Wix automatically adds schema markups instead of you having to do it manually. This helps search engines determine which portions of your site's content can be viewed in search responses as rich text.
Wix vs WordPress
SEO – wise
Although Wix makes it simpler to create an SEO-friendly site, your options are limited. WordPress site owners have more control through metadata and plugins, making it more effective for those willing to put a little time into optimizing their sites.
Wix vs WordPress for Website Security
Regardless of the size of your website, you should be concerned about website security. Nonsecure sites can be hacked or hijacked. Your site could be held hostage by ransomware, your customers' private information stolen or used to distribute malware to your site visitors.
It can also ruin your SEO. Google places about 10,000+ sites on blacklists every day for distributing malware. Every week, an astounding 50,000 are blacklisted for phishing. The search engine guru believes web safety is a top priority and slams sites that pose online threats. Both WordPress and Wix include features that improve site security. Here's how they compare:
HTTP vs HTTPS
Any data transferred to or from a site using HTTP can be easily accessed and attacked. With HyperText Transfer Protocol Secure (HTTPS) sites, the data is encrypted and authenticated before being transmitted or received.


SSL (Secure Sockets Layer) certificate secures your visitors' connections between your site and
their browsers. It allows them to visit your domain over a secure HTTPS connection. This makes the website safe for both you and your users. Wix currently offers HTTPS sites to all its customers for free. WP users must purchase SSL certificates from their web hosting companies.
Dedicated Server vs Shared Hosting Security
With a dedicated server, website security is your responsibility. Hosting providers will secure and power your server, but you are responsible for securing the content on it. You will need technical expertise to configure software that alleviates threats as it detects them. Most site owners will not choose this option, but it can be helpful for larger sites. Shared hosting lets hosting providers secure your website. They install programs, server security applications, and firewalls, which are monitored by experts who help ensure stable, safe operating environments. Wix and WordPress.com have shared hosting. Since WordPress.org site owners choose their own hosting companies, they have access to both.
Core Code Safety
When a site is hacked using third-party code, every bit of bad code needs to be removed. WordPress's core code is rarely hacked, meaning there is little to worry about with WordPress.com;
however, themes and plugins are, making WordPress.org sites susceptible to attack if they are not regularly updated. To ensure your code stays safe, you will need to update themes, plugins, and WP versions when prompted by WordPress. Wix security is designed for ease of use. There's no need to worry about remembering to update your site.
Wix vs WordPress's Approach to Security
Wix security is geared toward HTTPS. This platform automatically enables HTTPS on all new sites created at no extra cost. Wix makes it easy and free to launch a secure site with an SSL certificate. WordPress security focuses on reducing risks on an ongoing basis. This continuous process evolves as needed to keep up with current threats and keep core code safe. WordPress site owners are provided with the necessary tools for improving site security through WordPress version updates, as well as theme and plugin updates. Both platforms are dedicated to site security; however, Wix provides a true hassle-free solution.
Share & discuss UX/UI designs
Add mockups from Figma or your computer to ensure UX/UI is moving in the right direction.
14-day free trial
No credit card required
WordPress or Wix: The Final Verdict
If your small business needs a website, both Wix and WordPress offer reliable and secure solutions for creating a website at a reasonable price. The difference comes down to the amount of effort you are willing to put into it, and the level of complexity that you need. When it comes to price, Wix is more affordable. Although both platforms offer free options, the Wix eCommerce price is significantly lower than WordPress. On other plans, however, the Wix monthly/yearly cost can sometimes be higher than WordPress especially if you know how to code and can use WordPress.org
SEO should also be a consideration when considering which platform to use. While the paid versions of both Wix and WordPress.com provide basic search engine optimization via SEO tools, load times, and a focus on UX, third party software provides the best results. Unfortunately, there isn't a recommended SEO plugin for Wix, while there are plenty of WordPress SEO plugins to choose from. So, if you need an entry-level website that will dazzle your customers and is easy to build, Wix is a great way to go. If you're ready to invest in a system that will grow with your business, start with WordPress.com and migrate to their open-source option as needed.
If neither is your cup of tea, there are other website builders out there like Weebly, Squarespace, Hubspot and more.
FAQs
Is Wix or WordPress better?

Depending on your level of skill and the requirements of the site you need to build will answer this question for you. Wix is an easy solution for the novice and offers design tools and templates to publish a small site quickly. WordPress is best for complex sites and offers more flexibility in customization options but requires more technical skills.

Is Wix cheaper than WordPress?

Pricing between these two platforms isn't easy to compare. Their models are very different. Wix is an all in one service that includes: hosting, apps, themes, ecommerce and customer support into one monthly fee. WordPress is in theory is free. The core is open source and can be downloaded by anyone at no cost. The costs to run a WordPress site come from hosting it with a third party company and purchasing custom themes and plugins which can be either one time fees or recurring subscriptions.

Can I use WordPress with Wix?

The most commonly used combination of Wix and WordPress is for blogging. Some Wix customers choose to take advantage of the WordPress blog platform for its rich functionality by integrating a sub-domain and hosting it externally.